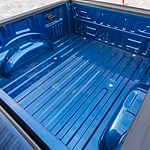 Think about all of the great vehicles that you have owned over the course of your life. What is the one thing they had in common? The most likely answer here is that they got the job done in terms of transporting you where you needed to go. The Ford F-150 Tough does that and so much more.
With its stabilization controls and even something known as Trail Control (cruise control for off-road driving), the F-150 Tough can literally take you virtually anywhere you want to go. It has been tested on any number of types of terrain, and it has withstood the test of time. You have got to see this for yourself.
It has a 13,200 lbs. towing capacity to make life on the farm or an industrial complex just a bit easier for you. In fact, it is so well trusted that the military uses these trucks for many exercises that they do as well. You simply cannot beat that.