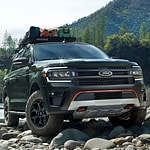 If there's one thing that 2022 Ford Expedition excels at, it's the wide range of utility features that enables drivers to get the most out of their investment. The Ford Expedition is one of the best SUVs on the market. Characterized by its boxed full frame and sleek design, it's no wonder why so many people have their eyes on the new Expedition. Read on to learn more about the top utility features offered with this vehicle.
2022 Ford Expedition: Utility Highlights
The Expedition is equipped with several features to optimize your driving experience, including:
Continuously Controlled Damping Suspension: The Ford Expedition detects and a respond to potholes and other obstacles to improve your driving experience and protect your vehicle.
EcoBoost Engine: The Expedition includes a 3.5L EcoBoost engine for improved fuel-efficiency and gives drivers the power they need as they're navigating the roads.
Trailer Sway Control: Have something to haul? Enjoy the Expedition's Trailer Sway Control feature that helps stabilize your vehicle.