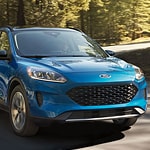 Our team at King Ford contains auto tech enthusiasts, and they've spoken. They say the Ford Escape is a textbook example of high-tech features that are easy to understand and use, efficient and even luxurious. Here's what they mean.
Ford + Alexa
When Ford met Alexa, time spent behind the wheel became easier and more enjoyable for all of us. Thanks to this feature, Alexa is now available to help you while you're in the driver's seat. Ask Alexa for the quickest navigation routes or general traffic info. You can also use Ford + Alexa to complete Prime shopping as you dash to work and to communicate remotely with supported devices in your smart-home.
Bang That Playlist
Nothing hits quite like a hyped playlist curated by you for you. The Ford Escape's Bang & Olufsen sound system makes playlists sound even better. The system is a 10-speaker array situated throughout the vehicle cabin. A collection of tweeters, mids and bass, the result is vibrant, lush harmonics that engulf vehicle occupants.