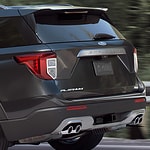 Traveling to your next business meeting in Murphy has gotten a lot more convenient. And comfortable, too. With the Ford Explorer, not only will you look good behind the wheel of your stylish SUV, you will drive in comfortable seats with ample leg room. With a "Multicontour seats with Active Motion" seat massage, your ride will be fatigue-free from start to finish. Bring your coworkers along, as there is room to fit others comfortably. And, third-row seating makes it easy to accommodate meeting materials.
No more straining your eyes to see your motorist-assisted devices! With a 10.1-inch LCD screen, your driving functions are easy to control and navigate. Whether you're calling ahead to your meeting, looking up directions to get there or queuing up music for the drive, the smartphone-like instructions will provide ease of use.
King Ford knows that you have enough to think about with your busy life on the road. It's nice to know that comfortability while getting to the next meeting is not one of them.