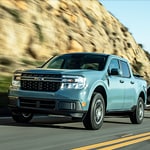 The Ford Maverick is rapidly becoming a popular choice around Murphy, and there's a good reason. It has the capability you need to seize the day and be productive. And if you're considering buying a 2022 Ford Maverick, King Ford's inventory is well-stocked.
With a 2,000-pound trailer tow package for the base model and a high-strength steel frame, the truck helps you get the job done. The standard 1,500-pound maximum payload may be all you need. Do you work remotely or need electrical power while on the go? Say goodbye to portable chargers and connect your equipment to two available 400-watt 110-volt outlets.
Because Ford engineers have already tested the Maverick over 19 million actual and simulated miles, you can depend on the truck's reliability and versatility. And with the complimentary remote features included, such as stop-start, lock-unlock and vehicle location, you're free to take your adventures far and wide.