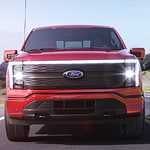 Why is the Ford F-150 such a popular choice among hard-working truck drivers? At King Ford, we believe that its utility features have a lot to do with this. The Ford F-150 excels in terms of its towing abilities, off-road handling and durability.
If you need to haul either a trailer or a boat through the Murphy area, then you will be very grateful for the maximum available towing capacity of this popular Ford truck, which is an incredible 14,000 pounds. When paired with an available towing feature called Smart Hitch, this high towing capacity will make you feel unstoppable.
When it comes to the Ford F-150's off-road handling, The FX4 Off-Road Package and its tuned shock absorbers will serve you well. Finally, there is military-grade aluminum in this tough truck's bed, which will stand the test of time, regardless of what you are transporting in it.