Schedule Ford Service & Auto Repairs in Murphy, North Carolina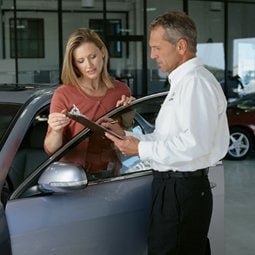 Everyone who drives a car has to periodically take care of it. From oil changes to tire rotations, the cost of basic maintenance can build up over time. And the cost of auto service is just one reason to schedule your next appointment with our King Ford service techs. Whether you need a vehicle inspection, brake repair, oil change, or tire rotation, our Ford service center guarantees all auto repairs are done using certified Ford parts.
The easiest way to keep up with routine car service and the recommended Ford service schedule is to talk to a member of our King Ford service team. You can also schedule your next appointment online no matter where you purchased your vehicle, even if you're driving a used car, truck or SUV. 
Save Money on Necessary Maintenance with Service Specials from King Ford
At King Ford, we make sure to offer our customers opportunities to save on various types of regular repairs and maintenance. Before your next appointment, take a moment to browse our service specials. You may find a discount, rebate, or bundle that can save you money on necessary services. We switch up our specials regularly, as well, so you may find different ways to save at different times of the year. 
Scheduling an appointment with us is a breeze, too. Just submit a form online, or call the King Ford service department. Whenever you come in and whichever kind of maintenance you request, one thing is certain: the service professionals at King Ford will take care of you.